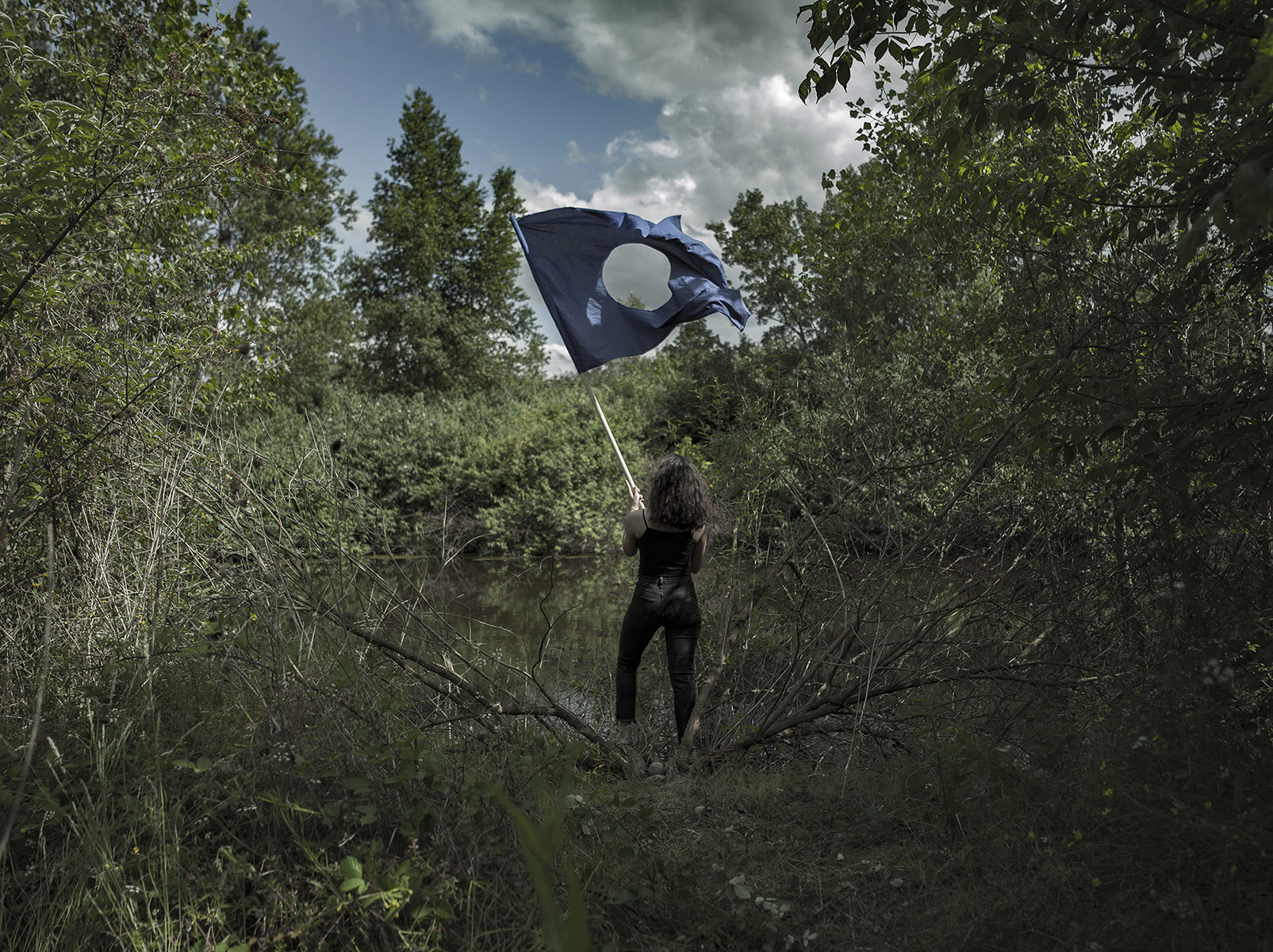 Émeric Lhuisset, Coline Jourdan & Lucía Peluffo
The few discussions I've had with artists have helped me get a perspective on what I do. We scientists are very attached to reality. We are explorers, not really dreamers. With them, I rediscovered this dream. 
These words of great sincerity are those of our sponsor, Sylvestre Maurice, an astrophysicist, astronomer and planetologist, specialised in the exploration of the solar system. It testifies to the touching curiosity of a scientist of international renown for modes of artistic expression with unsuspected evocative power. 
It is true that at first glance, everything opposes photography and science: they have neither the same object, nor the same methods and purposes. If the first one is part of reason and reality, the second one associates sensitive and imaginary world. And yet, when you look more carefully, they both question the world making the invisible visible, pushing back knowledge boundaries, giving us a new way to perceive. If photography tells the world convolutions, sciences help us to better understand i 
For this fifth edition, our three photographers in residence are fully involved in this multidisciplinary dynamic exploring new creative spaces. At the crossroads of environmental sciences and humanities to think about the Anthropocene (Émeric Lhuisset), biological and plant sciences (Coline Jourdan), and medical sciences (Lucía Peluffo), each of them participates in this hybridization of the fields of knowledge. Supported in their research by institutions and scientists from the metropolitan and regional area (CNRS Occitanie Ouest, Universities), they offer us their subjectivity on renewed sensitive surfaces – photographs, image diversions, fictions, drawings, writings, installations – in an assumed rereading of reality. 
Their protean aesthetics draw the contours of a singular artefact where each becomes the privileged witness of artificial phenomena inherited from human intervention and acting on natural elements. Each visual corpus thus constituted is an invitation to take a new look at our interior and exterior spaces in a sensitive concordance of worlds. 
Understanding and acting on the challenges of the contemporary world also means challenging each citizen and building new reflections for new practices. The health crisis shows us the urgency of the situation. Will photography and science, these two disciplines combined, allow us to "find our world" in order to better preserve it? 
Philippe Guionie
Director of Résidence 1+2
Muséum d'Histoire naturelle de Toulouse
CINÉASTE : PAULINE BROULIS
Catherine Jeandel is a geochemical oceanographer. She is a research director at the CNRS and works at the Laboratoire d'études en géophysique et océanographie spatiales (LEGOS), where she studies marine geochemistry in order to understand the mechanisms that determine the functioning of the ocean, in particular continent-ocean interactions. 
Catherine Jeandel joined the CNRS in 1983. In 1988, she left for Columbia University (USA) to develop isotopic marine geochemistry and in 1990 rejoined the research team in Toulouse that would become LEGOS. She has carried out more than fifteen campaigns at sea, i.e. scientific expeditions that can last up to two months. From 13 January to 8 March 2021, she co-lead the Swings mission. Two months at sea collecting, sampling and filtering water with the aim of understanding how the ocean helps regulate the climate by absorbing atmospheric CO2. 
She is coordinating a global geochemical sea exploration project called GEOTRACES (www.geotraces.org). Involved in scientific mediation, she is one of the Toulouse initiators of the Climate Train which criss-crossed France in 2015, on the occasion of the COP21. 
Catherine Jeandel wrote, with Matthieu Roy-Barman, a book on marine geochemistry and co-edited with Rémy Mosseri and CNRS-Edition Le Climat à découvert, L'énergie à découvert then L'eau à découvert, books that list 100 articles written by 130 authors. She was elected to the presidency of the Academic Council of the Toulouse Midi-Pyrénées Federal University in September 2017. She was awarded the bronze medal of the CNRS in 1992, Chevalier de la Légion d'Honneur in 2009, Officier de l'Ordre du mérite in 2013 and in 2018 she was awarded the Georges Millot medal of the Académie des sciences and was nominated as a fellow of the Geochemical Society and the American Geophysical Union.